July 6th
ages 4-7
July 25th & 27th
ages 4 to 5
July 19th, 21st, 26th, & 28th
ages 5 to 8
July 23rd & 30th
ages 2 to 4
Pricing
$50 per day per child
$85 for 2 days
$15 per class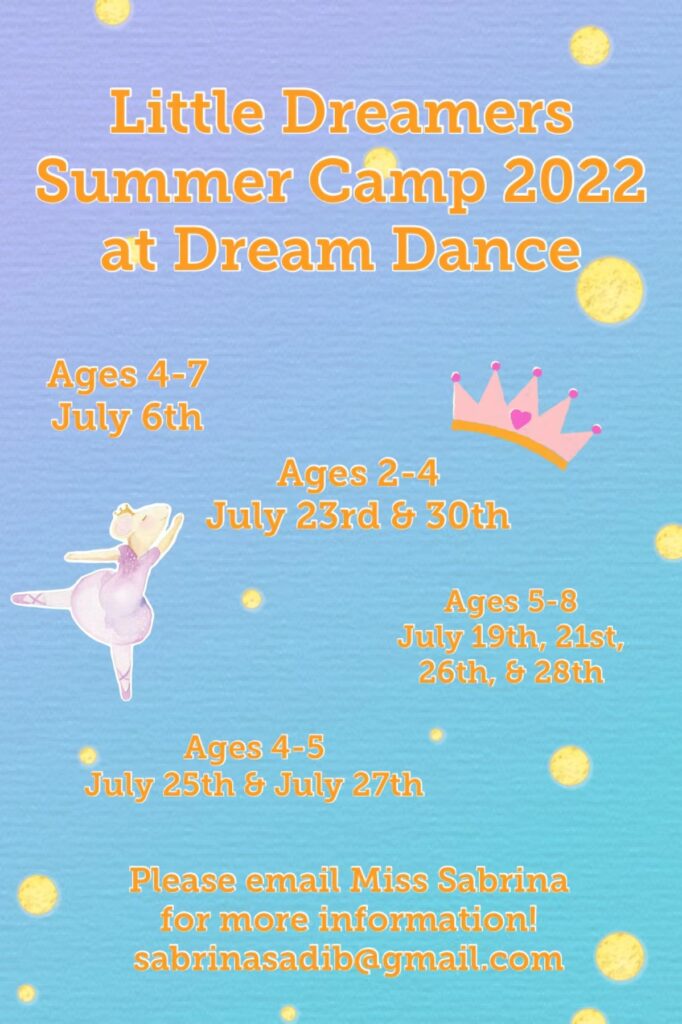 Come join us for our little dreamers summer dance camp!
The dance day consists of 4 classes with a break for snack and story time!
After the dancing is over, we will end the day with games!
Dancers can wear comfortable clothing but we recommend a leotard and tights!
Please pack your dancer with the correct dance shoes as well!
We will provide healthy snacks and water! It will be so much fun!
*There must be at least 5 enrolled per session in order for the classes to run!*
Schedule
July 6th, 23rd & 30th
10:00am-10:30am:

ballet


10:30am-11:00am:

tap


11:00am-11:30am:

snack & story time


11:30am-12:00pm:

jazz/hip hop


12:00pm-12:30pm:

games & pick up
~~~~~~~~~~~~~~~
Schedule


July 19th, 21st, 25th, 26th, 27th, 28th
3:30pm-4:00pm:

ballet


4:00pm-4:30pm:

tap


4:30pm-4:45pm:

snack & break


4:45-5:30pm:

jazz/hip hop


5:30pm-6:00pm:

games & pick up
Sign Up Below: